About Valor Exteriors
Valor Exteriors is a second generation family-owned and operated remodeling company located in Lanham, Maryland. We offer roof repair and roof, siding, window and door replacement installation services to homeowners in Central MD and Washington Metro.
A Note from our Founder
"Valor Exteriors' goal is to offer homeowner's a wide range of quality, name brand products that are made in the USA and installed by professionals at a fair price.
Over the years we have found that our customers like the way we do business and often refer us to their friends and family.
We're not the cheapest company, but we're also NOT the most expensive. More often than not, homeowners that we meet with decide they are getting great value for their money, and they're thrilled they hired us."
--Al Kincaid
With more than 30 years of experience in the home improvement industry, our goal has been to provide quality solutions at a reasonable price. Because of our reputation and vast knowledge of the remodeling industry, we have been able to forge relationships with some of the largest manufacturers in the United States to provide the best products and warranties available.
Our Story
After a decade of requests by past customers, Al Kincaid, a service disabled Vietnam War Veteran and the President of RenVision Kitchen and Baths, decided to open Valor Exteriors. His past customers were so impressed with the quality, beauty, and affordability of their kitchen and bathroom remodels, that they began begging Al to take his expertise into the home exteriors arena.
Historically, kitchen and bath remodelers are regarded as the experts of the home improvement industry. With Valor Exteriors, you get the same attention to detail and customer-first mentality outside of your home that you're used to only getting inside your home.
---
---
Proud Supporters of Operation Second Chance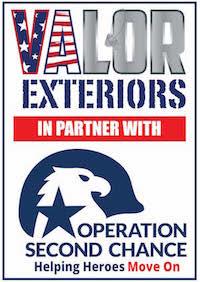 Valor Exteriors donates a portion of our profits each quarter to support Operation Second Chance (OSC) and helping heroes move on. OSC supports Veterans and their families by building relationships and identifying and supporting immediate needs and interests. They are dedicated to promoting public awareness of the many sacrifices made by our Armed Forces.
In addition, the team at Valor Exteriors volunteers our time and resources in conjunction with OSC to assist Veterans in finding employment within our company and affiliate companies.
Looking for a price? Get a no cost, no obligation free estimate.